A message from Robert & Julie

HAPPY NEW YEAR AND THE VERY BEST FOR 2021
Hello, Everyone,
Firstly, we wish to thank each and everyone of you for your continued support during this extraordinary year. 2020 most definitely has been a challenge in so many ways. Without your support, we would be a statistic along with so many other small businesses around the country. THANK YOU!
Despite everything, one always has to look for the positive in every situation. With the onset of the COVID-19 Coronavirus and operating as best as we could by way of curb-side only, we quickly realized that our shop in Manchester was never going to work for us again in its then format as we looked ahead to a return to more normal customer interaction but with new health safeguards. That's when the positive presented itself and we were able to negotiate to acquire the property in Arlington where it all started for us back in 2016 - the former Cheese House.
After the customary preparatory work, we opened the door of our new home at 5187 VT Rt 7A, Arlington on September 4. At the same time, we re-branded the Manchester shop as "The Annex to Rablogan Castle" to serve as an Outlet for our clearance items with shortened hours and restricted access.
As so many of us are aware, the Fall saw an increase in the incidence of COVID-19 throughout the NorthEast including Vermont. Since Fall and on through Thanksgiving, there was a further escalation that resulted in expanded restrictions and tougher guidelines. With this in mind and being concerned for both our customers and our staff, we decided to suspend operations at "The Annex" until further notice at the beginning of December while at the same time acknowledging the benefits and resultant success of our relocation to Arlington. Our customers offering testimony to this also.
Now, as we looked forward into 2021, accepting that there has been no apparent turnaround in virus cases that would warrant a lightening of the restrictions in the foreseeable future in Vermont and surrounding states, we were forced to re-appraise our situation. Thus, after considerable deliberation, we have decided to close the shop in Manchester permanently and focus our entire efforts on providing the best possible customer experience in our Arlington home.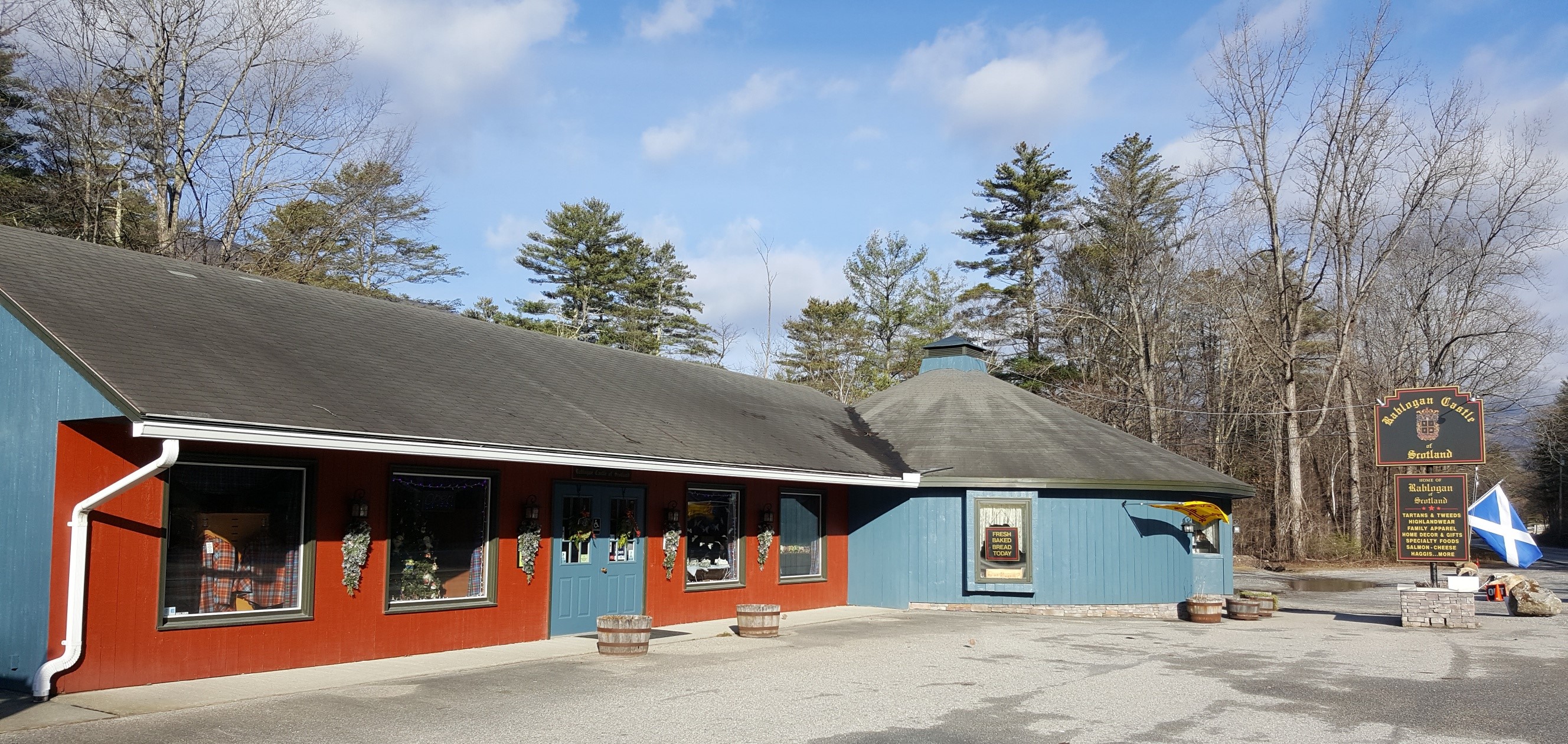 With 2021 upon us and as we wait for so many things effecting our daily lives to settle back into some form of normality, albeit a new and different normal, we want you to know that at Rablogan, one thing has never changed , "our dedication to you, our customers and friends", and never will as we go forward developing Rablogan Castle of Scotland in Arlington, Vermont as a destination for all who choose and especially for those with Scottish & Celtic blood in their veins.
Again, looking at the positive, our new home already offers so much -
A much larger and spacious facility overall with a dedicated food products and Highland wear area
Expanded product offerings with space to appreciate them
Everything on one floor - no stairs anywhere
Easy access for everyone - wheelchairs and pushers are no problem
Loads of parking right at the door
Right on Rt 7A - Traffic snarls are never an issue here
AND you save on Sales Tax too
So, when you have a chance, please drop by, say "Hi" and explore our new facility.
Now that we have filled you in with what's been happening around here, we wish you and yours a Happy New Year and all the very best for 2021
Stay safe

Slàinte,

Robert & Julie